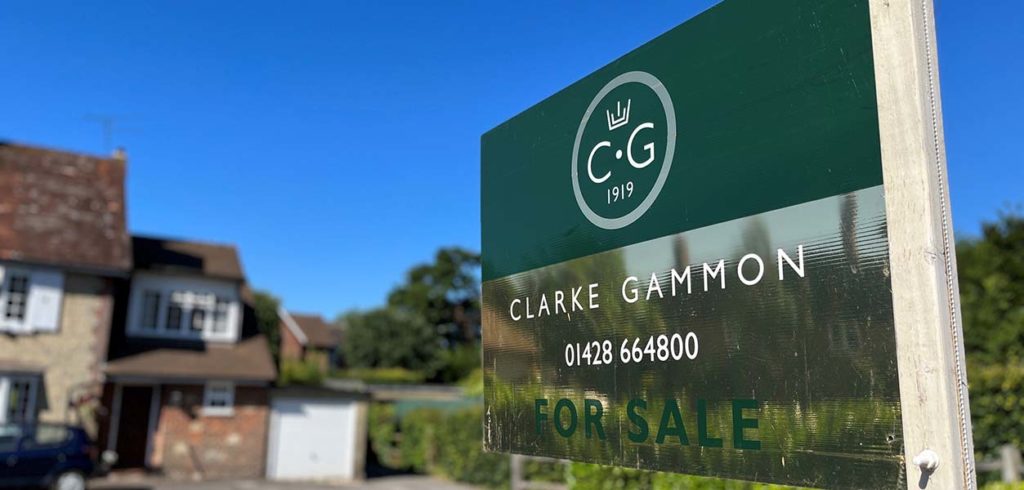 More properties come to the market as summer moves hot up!
Steve Cook – Partner Clarke Gammon
Regular readers will have seen that for the past 12 months or so there has been a shortage of new property stock coming to the market. The good news is that at long last, local sellers right across our office network in the Guildford, Haslemere and Liphook areas of West Surrey and East Hampshire have decided that now is the time to sell…
We should never be surprised by change in the property business, but the recent surge in new properties coming to the market, compared with the recent months of low stock and the resulting buyer frenzy, is unexpected. Particularly given the current uncertainty in the economy as a whole.
Looking at the market nationally, the property portal Rightmove recently reported that valuation requests from people thinking of selling were at the highest level recorded so far this year and much higher than in 2021. They confirm the number of valuation requests in the week beginning 20 June was the most since January and beat last year's figure for the same period by 24%.
Rightmove goes on to say that the 22nd June was the fourth busiest day ever for valuation enquiries by vendors and the most active since May 2021. They also confirm that new properties coming onto the market in the last two weeks were 14% higher than the same period last year.
Interestingly, in research also carried out by Rightmove, some 2,500 prospective sellers were surveyed, the results of the survey showed sellers are much more interested in agents being responsive than in giving the highest valuation.
Prospective vendors value agents being responsive (87%), presenting their properties professionally in advertising (86%), and being knowledgeable about local markets (84%) more than having the lowest fees (32%) or providing the highest valuation (21%) for their home.
Selling your home in 2022
It's often not any decision choosing an estate agent, at Clarke Gammon, we are often faced with competition that value high and offer low fees to gain your business, it's tempting for prospective vendors, as we all want the highest price for the lowest charges.
Although most people understand the proverb, you get what you pay for, this is never more true when it comes to selling your home. Certainly when you consider that this is the biggest asset you are likely to own, is it worth taking the chance… Marketing your home to achieve the best price is not simply listing it on the internet and hoping for the best.
We know that to achieve the best price you must have the largest pool of potential buyers, we've been selling property for over 100 years and understand the intricacies of attracting that one perfect buyer.
With our network of prominent High Street office locations, as well as having the unique representation from our Mayfair Office and the network of prestigious Mayfair office members. This coverage has allowed us to create a considerable database of buyers.
We produce, publish and distribute our 'At Home' magazine throughout our network of professional contacts in offices and waiting rooms across Surrey and Hampshire, drawing diverse and varied interest from far and wide.
Our team, partners, staff and professional contacts are all experts in their field, we handle farms and agricultural properties, our professional valuation, property auction, survey and sales teams are local experts and have a thorough understanding of the types of property and locations across our area.
A proper estate agent's service is much more than value and fee, if your property is correctly marketed, the price achieved will be the best possible price, as every sales opportunity will have been exhausted, every possible interested buyer will have viewed and the resulting offers will be the highest achievable at that time…
The result of correct and proper marketing guarantees the highest value, and for our clients, that's worth paying a fair and reasonable fee.
Considering a move this summer?
If you are thinking of selling, or need some help or advice on property related matters, please give me a call at our Liphook office and I'll be happy to help.
Steve Cook
Partner Clarke Gammon
See what our customers say about us – See our customer reviews.