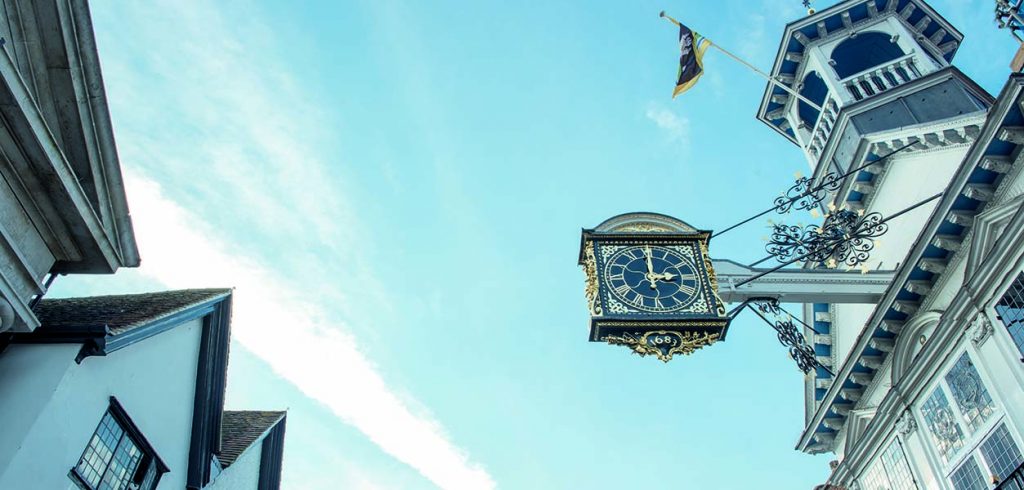 Guildford the destination of choice…
A hundred years ago, Surrey, like the rest of the UK, was battling a pandemic in the form of the Spanish Flu. It is believed that the many military camps spread the disease as soldiers mixed with people from local towns and villages. The flu affected mainly those people living in crowded conditions, and how strange that today, many who have previously enjoyed the hustle and bustle of city living are having a rethink.  The once crowded and often chaotic streets are now silent and many city dwellers have set their sights on more rural destinations, such as West Surrey.
As much as buyers are seeking a taste of countryside living, there is a sense from those that we have helped to move home that they still need to be within touching distance of what used to be their home. This is one of the reasons why Guildford was named the best rural location to move to. A study, undertaken by Compare My Move, looked at factors such as average house price, median salary, download speed, hours of sunlight, and rainfall of over 70 popular rural towns and villages in England and Wales.
Interest in moving to this beautiful area of Surrey may be a priority for many, but the reality is a lot trickier as, although demand is high, the number of properties coming onto the market is slow.  According to the February Rightmove Property Index, even though the average property price declined over the last 3 months, it has now risen by 0.5%.  We have seen this within West Surrey as an increase in buyer activity and lack of available homes has driven strong negotiations rather than cheeky offers.
Speaking to many people within the community and walks around the high streets, it seems that trying to balance work and home schooling is as much as anyone can cope with at the moment.  Guildford the destination of choice… Although there is a desire to move, many families are waiting until the children are back in school and they have seen an easing of the restrictions.  This is completely understandable as moving home – and even just preparing your home for sale – is stressful enough without throwing home schooling into the mix.
"So far in 2021, home-schooling has taken priority over home-selling for some people. Family properties are suffering most, with the difficulty of preparing a property for marketing and viewings while it's in use and occupied 24/7 by the whole family likely to give you cause to delay. Ironically, whilst it's too late for the Stamp Duty holiday, there are good reasons to come to market now, especially if you're selling a property that would be suitable for a family. There are more possible buyers looking and fewer suitable alternatives to divert their attention away from your property. An early start to the selling process will also help to get you sold, moved, and settled in before the new school year. With the current speed of the vaccine roll-out, that new academic year will hopefully be spent in schools and out of the home, but many of the other new needs for more space – both indoors and out – will remain," explains Tim Bannister, Rightmove's Director of Property Data.
Buyer demand has never been more evident than in the rush over the Christmas period, which each year sees record-breaking figures as we all search the property portals to see what homes are available.  This year, Zoopla recorded a huge 70.5% increase in Boxing Day traffic, compared to the 61% rise in traffic recorded on Boxing Day in 2019.
This Christmas upsurge is great, but how does that relate to what is happening in the market right now?  Well, the Rightmove Property Index shows that there has been an increase in buyers compared to this time last year.  In fact, their findings show that buyer demand is up by 18% and the number of visitors to Rightmove has increased by 45%.  This is certainly what we are seeing across our branches at the moment, where buyers are out in abundance.  But isn't just the number of buyers that is interesting but also the quality – these buyers are determined to grab their own little piece of a more rural lifestyle.
This is great news if you're thinking of selling your West Surrey home, but as the restrictions start to ease we expect the number of homes coming onto the market to increase.  If you're thinking of selling, it's time to talk so we can get everything in place. Contact your local office here.
See our customer reviews on our chosen review site Feefo