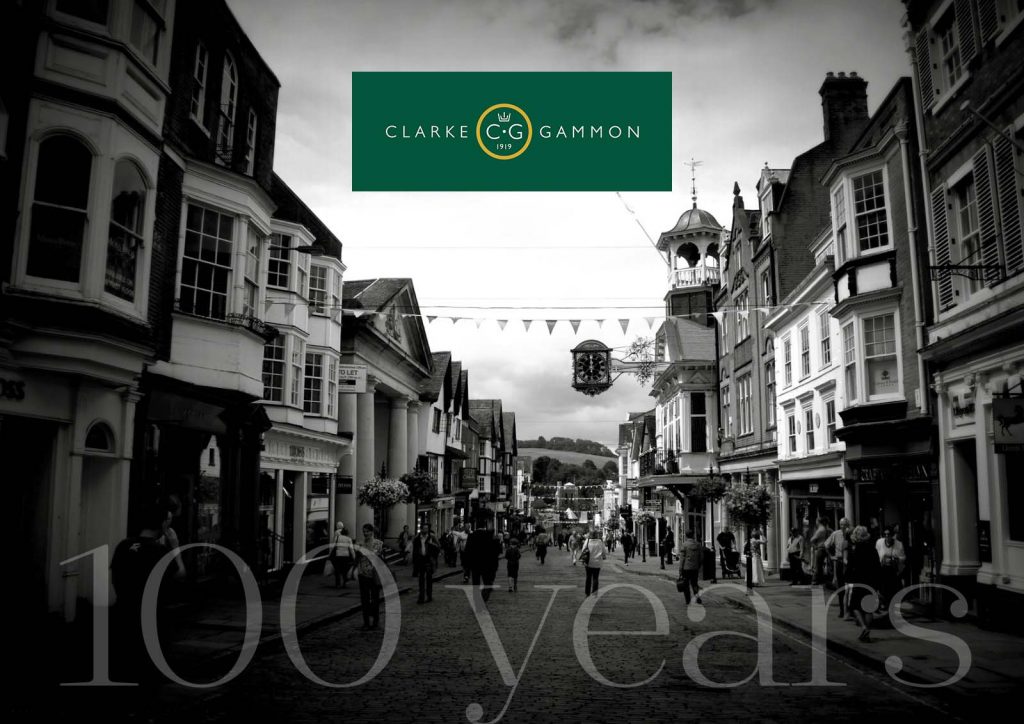 Clarke Gammon, Celebrate 100 years in business… 
Post World War 1 1919 – 1949
For a business to reach its centenary is a great achievement, by any standard, certainly when you consider the events of the past 100 years… We look back at some of the history, the highs and lows of the last century, along with the memories and achievements of Clarke Gammon over these years, in celebration of this rare business milestone.
Founded in 1919 by Sidney Goddard Clarke and Frank Gammon, Clarke Gammon was originally set up as auctioneers and estate agents with offices at 188 High Street, Guildford. Frank Gammon was a surveyor and a member of the Gammon dynasty, which had a chain of drapery stores in West Surrey.
In 1927, Clarke Gammon & Company acquired the tobacconist W. Emery and diversified into a tobacconist/auctioneer. The firm relocated to 45 High Street, Guildford and continued to trade from these premises until 2001, after which it moved to its current premises at 4 Quarry Street.
Brian Clarke was born on the 8th July 1926 in Eastgate Gardens, Guildford, the son of Sidney and Margery Clarke. Educated at Lanesborough and The Royal Grammar School, both of which were to feature much in his professional life. Following demobilisation, Brian studied at the College of Estate Management, qualifying as a Chartered Surveyor, before joining his father's firm and becoming a partner in 1949, a position held until his retirement in 1998.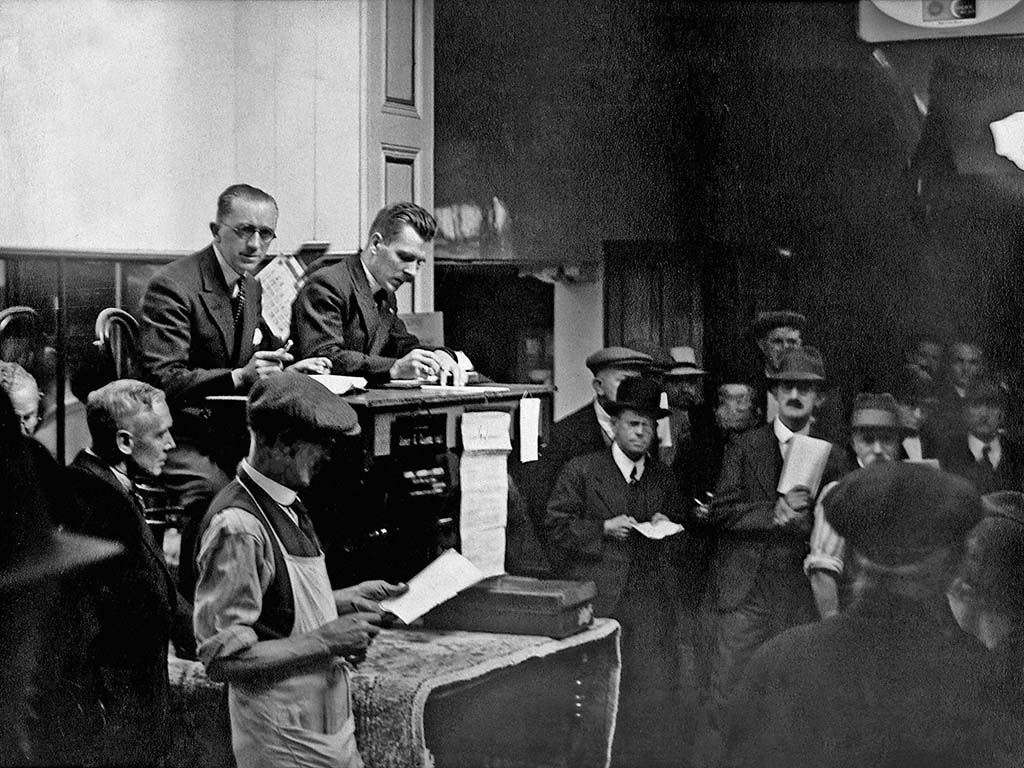 Sidney Clarke, Auction Rooms, Guildford
Post World War 11 1949 – 1969  
The partnership was expanded in 1950 when Colin Trent joined the firm. Colin already had a direct involvement with the company, being Sidney Clarke's brother in law & Brian Clarke's uncle. Colin Trent had trained as a Chartered Surveyor between WW1 and WW11 with Clarke Gammon & Co., then joined MEPC during WW11 and Wates immediately after.
1970 – 1999  
In 1975 the Clarke Gammon firm evolved again with the amalgamation of Raymond Wood of Godalming, taking Bob Harrison into partnership. The firm became Clarke Gammon and Raymond Wood with offices at Guildford, Godalming, Liphook and Midhurst.
The amalgamation was not a particularly happy one and the firm parted amicably some 4 years later. Soon after, Roger Lawson who had joined the partnership in 1970, left the firm to start his own practice in Haslemere. In the meanwhile, a new surveyor had been appointed, namely Peter Hunt, who soon joined the partnership in 1972, the firm having rebranded as just Clarke Gammon.
The 1980's property boom where the World's major economies were experiencing substantial growth in service sectors, financial systems were being liberalised so that credit was easy to come by and consumers spending was rising fast and there was widespread optimism.
The Governments had finally cracked the knowledge of sustained growth by allowing free rein to markets. The painful outcomes when the booms collapsed are also well known, tumbling property prices, huge debts held by households and firms secured on properties whose values were falling, large scale defaults and widespread failures of financial institutions which forced unparalleled intervention by Governments and regulatory institutions and finally, debt depressed national economies.

Tony Jamieson 
In April 1994, our current Senior Partner Tony Jamison joined Clarke Gammon. In the book published to celebrate our centenary, Tony recalls his earlier memories of working at Clarke Gammon. 'Their single office was situated on the first floor above a dress shop and archway over Phoenix Court at No. 45 High Street. The partners were all referred to as "Mr" and were the only ones allowed to touch the post. The phone system wasn't capable of transferring calls so messages were conveyed by post it notes which were stuck to your phone – and at times you literally couldn't see your phone for stickers! Sales particulars were usually black and white, with only the really expensive properties in colour, and photographs had to be stuck on the details which were typed on a typewriter and then photocopied several hundred times to be sent out on handwritten envelopes to those on the mailing list.The firm had a cellar full of old files dating back to the start of the business in the early 1900's, but unfortunately many were lost in the floods of Guildford in September 1968 when the cellar was flooded. I still remember to this day, the first property I went to see with the then, senior partner, Brian Clarke, a fine house in Pewley Hill. When we got to the property we carried out our inspection accompanied by the vendor and we were then invited to stay for lunch and were provided with a big bowl of soup and bread as a way of thanks for coming to spend time looking at his house and giving our professional advice on the value. How times have changed!'
The internet age 2000 – 2009
As technology rapidly changed the business world, estate agency was quick to take advantage of the internet age. From the early 2000s, a property could be on the market just a few hours and be seen by anybody with internet access anywhere in the world, 24 hours a day. It wasn't always like this, even 1990s photographs had to be developed, collected and stuck to paper brochures.
The only way one could see lots of properties in one go was by the local newspaper or to look in an estate agents window. Brochures were typed on typewriters and potential buyers were matched to properties by sifting through a box of applicant cards. Suddenly there's a computer in the office, a digital camera, the birth of the internet and improved technology.
Rightmove was launched in the 1990s and within a few months the industry was completely transformed. Photos were ready instantly; brochures were available the following day and people could email their enquiries from websites that show thousands of properties from hundreds of different agents, anywhere in the country for anyone anywhere in the World.
The internet revolutionised the way properties were searched for and viewed with floor plans, virtual tours, videos and EPC's being made available to every buyer instantaneously, from which parties were able to gather so much information and therefore no need to view houses that had already ticked a lot of their boxes saving time themselves and the homeowner.
In 2003 Clarke Gammon welcomed Steve Cook and Mark Steward to the company. Both were Directors within a corporate agency, and they decided they wanted to break away and start their own business concentrating on traditional estate agency values of selling property, land & new homes and not financial services.
After a chance meeting with Tony Jamieson in France, it was agreed, as Clarke Gammon were on the expansion trail, that the two would join Clarke Gammon and open the Haslemere office which they did in 2003. The merger with Wellers shortly followed as did the opening of the Liphook office in 2006; Steve and Mark became full partners of the company as a whole in 2007.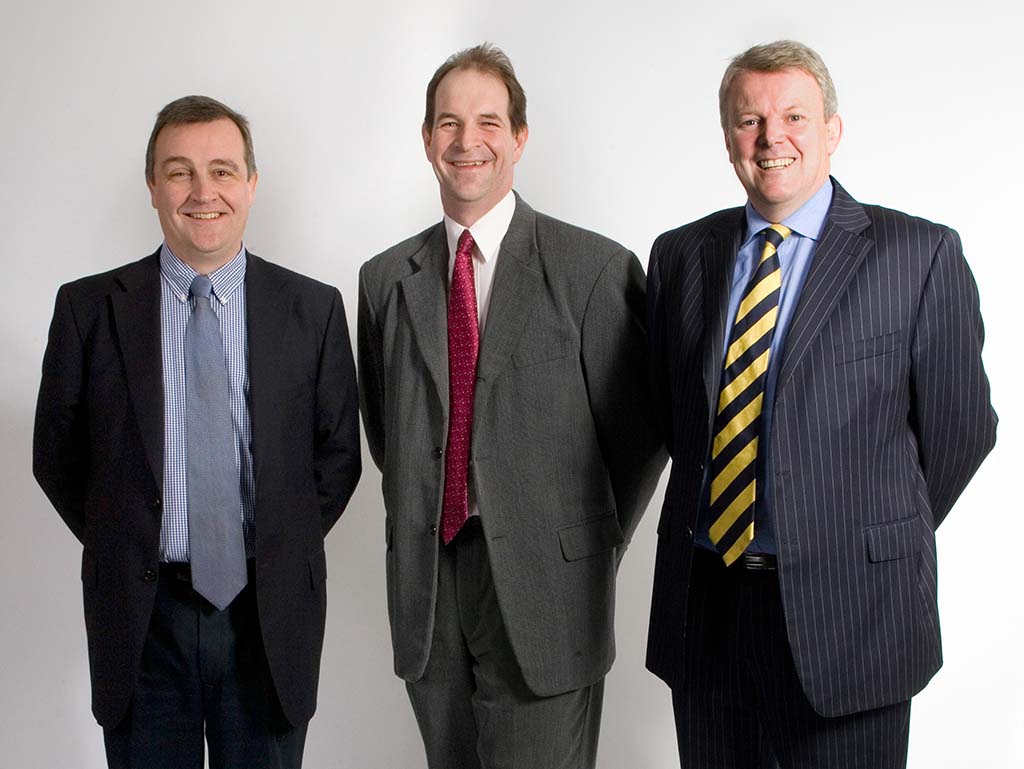 Tony Jamieson, Steve Cook and Mark Steward
2010 – 2019  
This period has seen a significant number of changes, both in terms of the political and economic situation in the UK and also as far as Estate Agency is concerned.
With 3 General Elections, 4 Prime Ministers and the European Referendum politically, and significant changes to stamp duty and additional taxation on second properties and overseas investors, as well as Buy to Let Landlords. This has seen a huge change to the property market in the last decade. This, together with the saga of Brexit, has led to more and more people being reluctant to commit to buying and as a result far fewer properties have been sold in the last 10 years than pre the financial crash in 2008.
As the centenary approached, there was a time for quiet contemplation and a small amount of crystal ball gazing, although, were reminded of our long and often bumpy path over the years. Clarke Gammons strength has always been in the foundations laid so many years before and in our ability to continue to adapt our business to meet modern-day requirements.
Today, our business has tremendous diversity, not only offering traditional estate agency services but strong Land, Planning, agricultural and New Homes departments, as well as professional services and valuation departments. These services help to meet the needs of many types of clients, whether buying or selling property.
The future… 2019 – 
Few could have predicted how world events would focus our energy as we began our next 100 years. As has so often happened during our history, our new millennium began with the business having to evolve to meet the needs of our clients. The Coronvius pandemic has brought challenges for us all, no more so than for Clarke Gammon to responsibly ensure the safety of our staff and customers… Although, to our surprise, and despite the virus, the great British publics overwhelming desire to get on or move up the property ladder was undiminished… 2020 ultimately turned out to be one of Clarke Gammons most successful years.
As we stand, in early 2021, with the Corona Virus vaccine being rolled out at a furious pace, there is palpable anticipation for normality to return. No doubt the future will bring more challenges but with challenges come opportunities. At Clarke Gammon, we look forward to a future of opportunity, with the knowledge and experience of our 100-year heritage to help guide us through the next 100 years…
In celebration of our centenary, we have produced a book that offers more images and insights into our history, an electronic version of this can be viewed here